Single parenting mindset tips during restrictions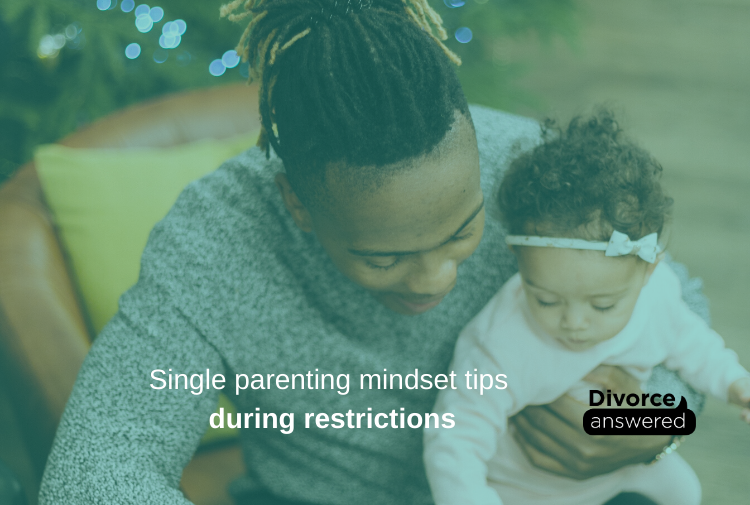 SUGGESTIONS FOR THE WAY THAT YOU THINK WHEN YOU ARE STUCK AT HOME WITH YOUR CHILDREN
Juggling the needs of the children and home as well as your own needs can be incredibly difficult or stressful. The challenge is increased when you don't have another adult or parent to tag-team with to either occupy the children or give you some mental relief. Further, as a working parent, you may be needing to squeeze in some work into the small cervices of the day when your children are occupied. Rachael Scharrer, Life Change Counsellor and Separation Strategist, shares some single parenting tips that you can use during the restrictions.
Choose your perspective. Be conscious with choosing your attitude and how you view your situation and challenges while in quarantine. Your children will follow your lead when it comes to how they perceive being stuck at home. Instead of being frustrated and angry with how limiting the walls of your home may be, see it as an opportunity to bond, connect and learn more about each other.
Be mindful of your emotional regulation. During times of stress and anxiety, you may be more likely to get upset or angry with those closest to you – often those that you are stuck at home with. Try to be mindful of what you say and how you react. Regularly meditating, focusing on your breath and carving a little time-out for you can help your emotional regulation.
Be kind to yourself. Yes, from time to time you are likely to make mistakes, yell at the children in frustration or feel guilty for giving the kids ipad or TV all day. It's ok. This isn't an ideal situation and it's just not possible for you to be perfect all the time. Acknowledge the error or your challenge and try a different way next time.
Cut yourself some slack. Every home has different standards of cleanliness. However, keeping the home clean and tidy with everyone in the home all of the time is incredibly difficult, especially when the rooms feel like they are getting smaller as each day passes. Quarantine is the time to relax the standards a little for your sanity's sake. When it is time to clean, a helpful mantra is "you help make the mess, you help clean it" and everyone in the home helps to clean with age-appropriate tasks.
Don't move your child on to the next activity before they are ready. As adults, we often get bored with the little children games. We have a tendency to interject and switch them to something more interesting to us. If your child isn't stuck on a digital device and is learning a skill or using their creativity or imagination, don't disturb them.
Employ aFORMations. This is a technique that can be used to aid parents in their mental planning of an activity before it happens – essentially it is about formulating or thinking to yourself about the activities that you need to do and how you can make it more enjoyable for everyone. For instance, 'we are going to have breakfast and I will make their breakfast with their favourite fruit on top (making them feel special) and then we will have a race to see who can get dressed the fastest followed by a neatest bed making competition…'
Enlist help from your child's other parent. Every person's situation is different. If you are fortunate to have a functional co-parenting relationship, you may be able to work with them to your benefit and your child's benefit during quarantine. Via FaceTime, Skype or WhatsApp, they can read a book, supervise homework or explore assignments together online. If you are having some behavioural challenges with your child, your child's other parent may be able to 'back you up' and support you by helping your child better understand what is going on and why everyone needs to work within the confines of the restrictions, limitations and current situation. Remember, you can enlist help from your child's other parent as well as from grandparents, aunts, uncles and family friends.
This time of restrictions isn't just about getting through it – it's also about getting through the process with our sanity and family relationships closer than when it started. Not every day will be perfect. The aim is to do the best that you can within the circumstances for your own benefit and for the benefit of your children and your relationship together.
RELATED ARTICLES:
Surviving restrictions with your mental health intact