Co-parenting during COVID-19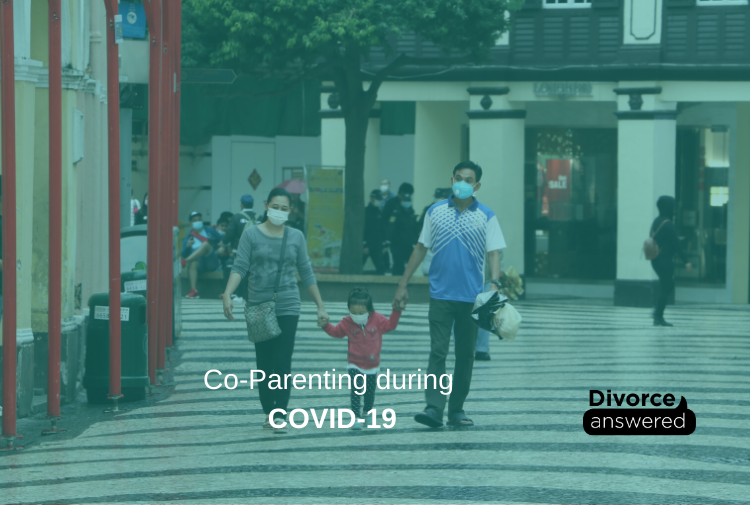 HOW TO CO-PARENT DURING THE CORONA VIRUS WHILE RESPECTING SOCIAL DISTANCING REGULATIONS
Currently, we are being encouraged to exercise social distancing. Many people don't understand what social distancing is, let alone how to co-parent during these unique set of circumstances. Rachael Scharrer, life change counsellor, separation strategist and founder of www.DivorceAnswered.com.au, shares some insight on co-parenting during the COVID-19 pandemic.
What is social distancing? Social distancing is the practice of reducing your interactions with others to limit the spread of infections and diseases. It recommends avoiding large crowds at concerts and theatres, having people in your home, limiting your time in supermarkets, shopping centres and on public transport. Caution should be exercised when buying groceries, eating take away food or in restaurants, attending religious services and travelling. Rather, we are all encouraged to spend time at home, take walks in nature, enjoy a scenic drive and be social via digital devices (phones, skype, WhatsApp and social media).
When exercising social distancing it is recommended that you stay 1.5m away from other people, wash hands regularly, cough into your elbow, avoid shaking hands or touching others and keep your hands away from your face.
Co-parenting through social distancing As a separated or divorced parent, social distancing must be taken into consideration when co-parenting. Rachael Scharrer highlights your rights and suggestions for co-parenting during COVID-19:
If you have parenting orders, you must continue to follow orders while exercising social distancing
While you have the children in your care, do your best to follow the best practice social and hygiene guidelines, avoiding highly populated locations and activites like cinemas, playdates, sleepovers with friends and playgrounds. Limiting your exposure to the virus (as best as you can) is important to keep the at-risk and vulnerable population healthier
Be creative with your time – get crafty, do a project together, garden, cycle, draw, play board games, write and send letters
Skype, WhatsApp, Facetime or call your relatives and friends to catch up instead of doing it in person
Do your best to openly communicate with your child's other parent – by all means, share your concerns, make your requests but you cannot expect your child's other parent to do what you want in their time with the child
If the child is ill, talk to the other parent about each adult's willingness to keep the ill child at home (their primary parent's home)
For parents without parenting orders, being sensible, realistic and working together is essential
If your time is at a Supervised Contact Centre, follow the directions, requests and precautions of the centre. It is understood that while Social Distancing is occurring, you must comply with your orders unless you feel that your children are at risk of harm. Being exposed to COVID-19 for children isn't considered harm. Withholding your child from their other parent may be a contravention or breach to your Orders.
Considering the wider family If you have elderly or frail family members and you are concerned that your child has been exposed with the other parent to the virus, it may be best to not visit the 'at risk' family member. You can find other ways of supporting them by dropping off groceries, sitting outside and having a chat or making regular phone calls to them.
Social isolation and co-parenting Until a social isolation order is made by the government or your health professionals you cannot withhold your child from their other parent. If and when social isolation becomes a requirement by the government, then your co-parenting situation may change. Depending on your situation, your children may not be able to travel to their other parent or one parent may not be able to manage having your children during isolation. Whatever your situation may be, you need to do you best to facilitate a meaningful relationship while maintaining the safety and wellbeing of your children and yourself. Remember, if you do have to withhold your children due to concerns for safety, wellbeing or health, please be certain that you have legitimate reasons that the courts are likely to understand.
In summary COVID-19 is creating a lot of fear and uncertainty for many parents and families. Do your best to keep calm, be smart with hygiene and socialising and teach your child what they can do and what to avoid. Your child will take your lead and they will see and hear everything you do with their other parent – now is the time to exercise caution, calm and patience. As much as you can, try to be child-focused in your decisions and ensure that you encourage and do your best to facilitate a meaningful relationship between your child and their parents.
RELATED ARTICLES:
Single parenting tips during restrictions
Covid-19 and the rise of domestic violence