What To Do Now That You Are Separated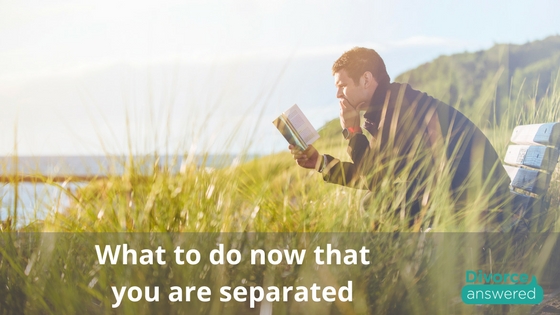 Rachael Scharrer, divorce expert and founder of online resource DivorceAnswered.com.au shares ways to help yourself and move on now that you are separated.
While divorce is devastating, it can be equally as liberating. Whether you made the decision or the decision to end the union was made for you, it is still a huge change. For many people, they never pictured life outside of the marriage or differently.
The first thing first: "Take a breath". Everyone is healthy, everyone is alive. Everyone is safe and well. Yes, life will change and will take on a different dynamic. But it will be ok and you will get through it. Even though you wish everything was over and done with, you will need to have a little bit of patience. Don't test each other or push the other's buttons or boundaries. Things will happen in its own time. You have had the past two, five, forty years together, nothing is going to change over-night.
Then, put on your strategic hat. When I say that, I mean get organised, get proactive and go through the house and gather selected documents that you will need for a divorce… whether you follow through with the divorce or not, if you can be prepared, your divorce will be more organised and more straightforward. So, get your marriage certificate, get birth certificates, get all financial documentations – be it personal, business, superannuation, on you or your ex-spouse.
You need to consider who you need to inform, do you need to get a small support network of people, tell a few friends. You need to make sure that you have the emotional support network at this time.
The Divorce Answered Separation Checklist is FREE and runs through a comprehensive list of items that you can check off and ensure that you have considered as much as possible.
Once you have worked your way through the list – the things you need to do, to consider and gather, my next suggestion is engaging a lawyer. You will need to find a lawyer that suits you, specialises in any particulars that is unique to your situation and one that understands your plight. There are several article on the divorce answered website that offers some guides for finding the right lawyer.
The way that I like to find trades, lawyers and other services relevant to my life, is by referral. I selected my first lawyer because that lawyer got a result for my friend which was the same result I wanted in my situation.
In preparation for that, I suggest that you unlock your copy of the Divorce Answered Separation Statement. In that statement, you will document the history of the union – using the prompts, it will assist you to "download" all of the information that will be useful to present to your lawyer. When your lawyer sees it, they will be able to run through the document very quickly, know what is relevant, what isn't relevant, what they need to know more about.
Once you have engaged your lawyer, you need to hand the situation over to them. Leave them. By all means be involved, have an opinion and offer direction – and most importantly have some trust and faith.
Your wellbeing is equally important through the process. Don't share all of your business with all of your friends and everyone you meet. Find a separation bestie – ideally someone who has separated around the same time as you – you can lean on each other, share your challenges and support each other throughout the entire, complicated process.
If you own the property, try to avoid moving out of the marital home. By all means, one of you may choose to sleep in a separate room but do not move out of the property that you own until there is some sort of financial consent and written agreement. If you have any desire to own that property or have it in your possession at the end of the settlement, do not relocate. Equally, don't force your ex-spouse out of that property either. That is not ok. It may become a war of attrition but you need to play by the rules. If the other party doesn't play by the rules, changes the locks on you, this will come up in court, brought before the lawyers, come up in court and it will not look favourable on them.
If you are renting and both names are on the lease, regardless of who is living in the apartment/property, you are both liable to make the monthly rental and outgoing payments. Discuss calmly and respectfully what your action plans are, when the lease ends, who has the desire to take over the lease or whether you both will relinquish the lease. Remember to give the managing agent ample notice in accordance to your lease in writing.
There is so much to do and consider throughout the separation and process of divorce. Start your personal list and slowly make your way through it. It may seem overwhelming at first but it is manageable if you break it down into smaller chunks. Remember to be organised, keep a level-head and do not react to any misdemenours from your ex-spouse.
Before you allow overwhelm and uncertainty to creep in, get some support, guidance and direction with a Strategy Session today!