What is a Conciliation Conference?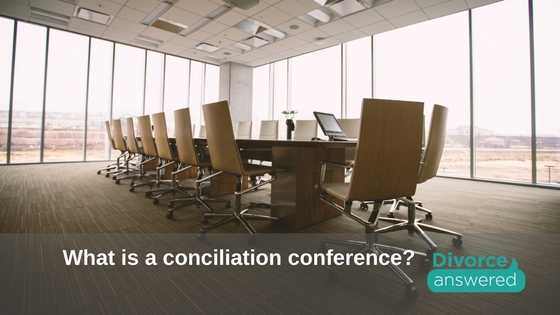 The objective of a Conciliation Conference is to help you (the parties) reach an agreement on the financial and parenting issues arising from the breakdown of your relationship with a view of reaching resolution and agreement. Rachael Scharrer, divorce expert and founder of DivorceAnswered.com.au, shares the process leading to and throughout a Conciliation Conference as well as a few tips and considerations which can help prepare you if and when you are asked to attend a conciliation conference.
BEFORE CONCILIATION CONFERENCE, YOU MAY BE ASKED TO ATTEND A CASE ASSESSMENT CONFERENCE. At the case assessment there are four requirements:
If you are the applicant:

supply an initiating application for financial and parenting,
submit a financial statement, and
affidavits, supporting documentation and requested orders sought

If you are the respondent:

you need to file a response to the initiating application,
submit your financial statement, and
interim document

Both parties must supply copies of all financials by the nominated due date
Then, the Registrar will assess the case and nominate whether you go to negotiation or directly to a hearing
WHEN THE CASE ASSESSMENT CONFERENCE ISN'T SUCCESSFUL, you may be asked to attend a Conciliation Conference.
A conciliation conference is an opportunity for each party to make a concerted effort to compromise, settle and resolve their financial dispute and occasional/limited parenting dispute. The Court may order the Conciliation Conference to occur with or without the party's consent. It is a confidential "without prejudice" conference. By resolving the matter at the Conciliation Conference, you will be saving a lot of money in further legal fees and disputes.
WHO ATTENDS:
If the Court does make the Conciliation Conference an Order, both parties must attend in person and they may have legal representation present. Also attending, or adjudicating, will be a Judge, Registrar or court appointed personnel. If the court orders the conciliation conference, then your attendance is mandatory. It is best to attend so that you are able to make timely decisions.
BEFORE THE CONFERENCE:
Exchange an updated financial statement
Exchange a balance sheet.
Exchange all financial documents (3-5 years tax returns, superannuation, trusts, credit cards, accounts for personal and business, market appraisal and any other supporting documentation, outstanding liabilities and valuations of assets as requested)
Exchange letters of offer
Ensure you have made full disclosure. Failing to be transparent and provide relevant, clear and current information could work against you
IN PREPARATION FOR THE CONCILIATION CONFERENCE:
Review the other parties offer of settlement. Note which parts you are open to and which parts you do not like.
Write down your own options of settlement (Option 'A' being the most ideal, option 'B' being a fair compromise and 'C' being the minimum you will accept). It is best to do this before the conciliation conference when you are not in a "pressure-cooker" situation
Decide what parts of each settlement offer/option (yours and your ex-spouse's) is important to you. Make sure that you note your reasons why it is important
THE DAY BEFORE THE CONCILIATION HEARING:
Know where and when the Conciliation Conference is being held
Contact the other party to ensure that they are willing to negotiate at the Conciliation Conference. If they are not, contact the registrar and vacate the space.
AT THE CONCILIATION HEARING:
Listen, be respectful. Allow the other party to feel heard. Don't roll your eyes or huff when the other party is speaking
Do not use antagonistic, loaded, negative words
Be open to negotiation, to discussion and to allowing the other party to feel understood while respectfully conveying your perspective
IF YOU ARE ABLE TO REACH AN AGREEMENT:
The registrar, or Judge, can either make the agreement an order or the registrar may refer the agreement to the presiding Judge
You and your ex-spouse can lodge the documents at court as an Order
IF THERE IS NO RESOLUTION:
The Registrar or Judge may make an Order, may award costs or give further directions.
The presiding court representative may refer the case for a Procedural Hearing
You may be ordered to attend further Family Dispute Resolution
A Conciliation Conference is a worthwhile step in the divorce process and one which can open the lines of communication with your ex-spouse, while having the support of your legal counsel inside the framework of the courts and with the expectation of reaching some sense of finality to the parenting and/or financial matters.
The Court wants to give you and your ex-spouse every opportunity to come to an agreement. No Judge, or any other person, wants to be making life-changing and life-long decisions for someone else. Attending and reaching an agreement at a Conciliation Conference is your opportunity to take some control over the final agreement or outcome.
If you have attended a Conciliation Conference and want to share your tips, please email contact@divorceanswered.com.au or use the Contact Us Page