Reclaiming your identity after break-up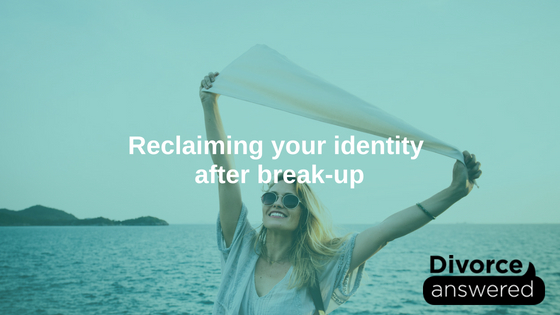 When a relationship or marriage ends, people more often struggle with their identity. For many years or decades, you were comfortable as being referred to or known as someone's wife/husband, someone's son/daughter or someone's mother/father. This changes in an instant when your relationship or your marriage ends.
It becomes an emotionally challenging time and an incredibly confronting time. Confusion about how to refer to your spouse now that you no longer choose to be together yet are technically married or de facto. Further still, if one person is trying to work on the relationship and the other isn't sure, that can make 'labelling' the other person difficult. At some point, you may reflect and realise, who am I? where did I go? Why don't I do [add activity] anymore?
Rachael Scharrer, divorce and relationship expert, coach and founder of DivorceAnswered.com.au, offers some tips and suggestions to finding yourself and reclaiming your identity after a break-up.
This becomes a time of new beginnings, fresh starts and reinvention. For many, knowing what to do or where to start can be the hardest step. Try these:
Balance social and solitude. Finding the balance of enjoying your own company and becoming a recluse is important. Understanding how much time you need to have on your own and time with others is a healthy step to finding the right balance of social and solitude. Learn to get comfortable in your own company and with the quiet. Equally, make arrangements with friends to have dinner or coffee, walk or activity. When you are busy, it allows you to keep your mind off your changes in circumstances and dwelling too deep into the past
Start or resume a hobby. Before partnering up or having children, I am sure you had activities that you enjoyed doing or going to. Separation is a great time to reclaim your interests. If you are lacking the self-motivation, ask a friend to join you. If you didn't previously know what your passion or interests were, take some one-off classes or complimentary classes at different places until you find a good fit for you. Consider dancing, art, fitness, tours, singing, music, crafts and more!
Invest in your wellbeing. Appreciating and re-claiming the new you can be difficult for some people. If you need the assistance from an unbiased professional, consider a psychologist, counsellor, therapist, life/happiness/mindfulness coach. There doesn't have to be anything 'wrong' with you. Rather, the professionals can help you to with direction, guidance, strategy and empowerment
Take pride in your appearance. Everyone's wardrobe and appearance needs an overhaul from time to time. Post-break-up is a great mark in your life to start afresh. Be daring, be bold – cut your hair short, style or colour it differently. Wear bold colours or accessorise differently. Image consultants and personal shoppers love helping people with self-expression by how they look. Some professionals may be able to help you couple existing items in your wardrobe for a fresh look.
Extend yourself. Do you love what you do for employment? If you aren't loving it so much, try to carve out time to learn a new skill or educate yourself in an area that you are really passionate about. If you do love what you do, then consider up-skilling, diversify your skills and make yourself more valuable and indispensable to the company you work for. You could also consider starting a 'side hustle' or side business.
Breaking up and separating is a great time for adults to reclaim their identity, find their passions and learn to invest in themselves. If it doesn't come easily at first, keep trying and persisting until it becomes 'natural' and 'normal' to you. Give yourself the necessary time and space to embrace the change and in the years to come, you will be grateful that you put in the effort.
If you are a little unsure about what you want to do or how to do it, you can get some support with a Strategy Session. Click here to learn more about how a Strategy Session could benefit you.