Mum and Dad Glue (Kes Gray)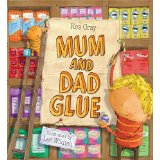 This book is a short picture book about parents who have decided to separate. It addresses the love lost between the parents and a child's attempt to "stick" them back together with "parent glue". This rhyming story delivers a powerful and optimistic message and reinforces the lesson that despite the parents not loving each other anymore, they will always love their child. The benefit of this book is that it doesn't attempt to address the full scope of issues children may experience during divorce. It focuses solely on love lost between the parents, how it isn't the fault or result of anything the child has done and there is nothing that the child can do to fix it.
This is a brilliant book for young children ages 2-10 and appropriate throughout the entire divorce process.
Disclaimer
This is general advice only and is not provided as legal advice. If you have a legal issue, you should contact a lawyer and/or accountant before making a decision about what to do or applying to the Court. DivorceAnswered.com.au cannot provide legal advice. If you have an emergency situation, please contact Emergency '000'. © Divorce Pty Ltd