The law and an opinion around introducing your new love interest to your child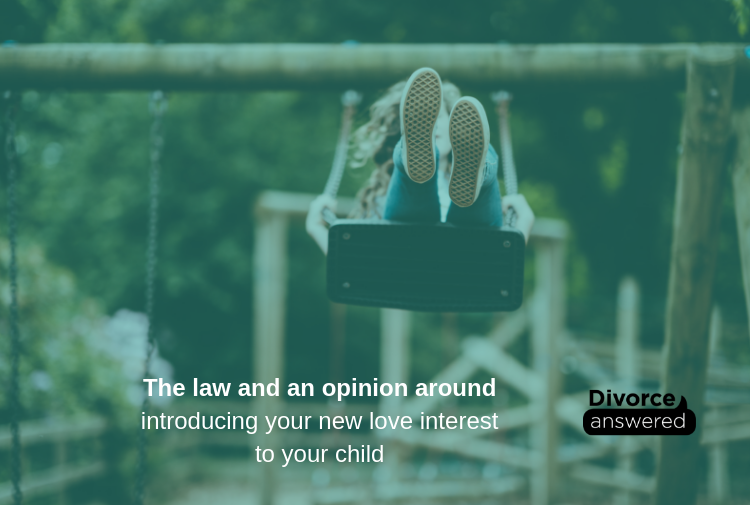 New love is exciting. So exciting that you want to share it with everyone! However, is it really the right decision to introduce your new flame to your child? If you have been together for a couple of weeks or months, is it appropriate? Rachael Scharrer, Divorce Expert and Separation Strategist at Divorce Answered, explores the benefits and challenges of introducing your new love interest to your child.
"Everyone will have an opinion on this matter. Some people may say 'happy parent, happy child' or 'it's none of your business.' Others may say 'way too soon' and 'not appropriate,'" said Rachael Scharrer.
One of the biggest complaints separated parents have is that one parent introduces a new flame that they have been with for a few weeks to a couple of months to the child. Quite often, these relationships are fleeting – the other parent is concerned for the child's feelings and their potential confusion as well as ensuring that this isn't a repeated and reoccurring situation.
From a personal perspective, Rachael Scharrer's opinion is to wait before introducing your new flame to your child. The basis for delaying are:
Hold off introducing your child to your new love interest until you have been together for at least 6 months, are in a serious and committed relationship with a long-term view of a future together
Introducing a new partner may cause friction between you and your child (especially if your child is a tween or older)
Rushing into a relationship may cause tension between you and your child's other parent, especially if you have sprung the new relationship on them
Young children become attached to other adults playing a significant role in their lives very quickly
Introducing your child to a carousel of 'new friends' may confuse your child
By delaying the blending of your new love and your child ensures that your new flame is of upstanding character and represents the qualities that you value and want around your child
Adding or introducing a new person dilutes your quality time with your child
Regardless of what your perspective is from a moral or ethical stand-point, you must understand the rules and regulations of Family Law. There are four points for you to remember:
You can't control what the other parent does in their time with the child, unless you have serious safety concerns
What you may deem as appropriate is narrow, yet, what the Family Court and Federal Circuit Court deems as appropriate is vast. The Courts are far more tolerant
It is the quality of time spent with the child rather than the quantity of time with the child. If the child is continually left with your new flame and you aren't interacting positively with your child, then a reduction of time for you with the child may be considered and agitated by the other parent
The safety of your child is more important than the access any parent has. This does not mean withholding your child from the other parent (doing this may not work to your advantage). However, it does mean that if you have safety concerns, you should be expressing it in writing and putting in place systems or arrangements to ensure the safety of your child
A new love or new relationship creates feelings of confidence and euphoria. It also creates new issues and concerns which you haven't otherwise had to deal with before. Navigating a new relationship with sensitivity, respect and a child-focused perspective will serve both parents well for their future co-parenting dynamic. Most importantly, parents need to have patience in their new relationships - you don't need to rush into introducing your child to your new love interest or moving in together if you are planning on spending the rest of your lives together.
Related Articles:
How soon is too soon to move on after divorce?
Step parenting 101: parenting someone else's children
5 rules for your new partner when divorcing
Why you should avoid dating while newly separated