Is it possible to be a CEO and a working parent?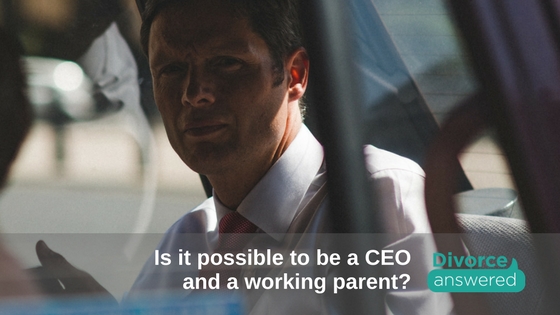 Working a high management as a Chief Officer, Chairperson or taking a leadership/board member role can be a rewarding challenge. For many people, it becomes their life. However, how do you effectively juggle leadership and parenting? Worse still, single-parenting and a high-powered job?
There have been lots of rumblings in the media lately about the incoming CEO of Commonwealth Bank. Mr Comyn is obviously a skilled businessman (otherwise he wouldn't have been appointed) and he is also a father to a young family. The fact that he is a father to a young family is under great scrutiny. Many people are questioning his ability to work and parent effectively. Whether you are part of a double income family or a separated parent, we all struggle with the juggle of family, home and work as well as being a partner, friend, sibling and child. Most people don't have a choice but to 'MAKE IT HAPPEN.' If you have a young family (say children under the age of 13), some suggestions are:
Ask your employer for flexibility with working hours. Perhaps you can squeeze in an hour or two before the children wake up in the morning or add extra hours of work in the evening once you have connected with your partner or once the children are asleep. You may be fortunate to have some 'work from home' days each week
Family homework time. When the children are completing their homework, you could do some light work too – You need to be available to your children and their questions, therefore lighter work that allows you to stop and start (for instance, checking emails or social media) would be ideal
Prioritise family time. Ensure that you are home to sit at the dining table with your family – while you do this, ensure that all electronic devices are put away and do not discuss work. Your family deserve to have time with you and no continually be second to your work
Share your work wins with the family. 'A family that celebrates together stays together' … well, it may not be true but it sounds great! Your children deserve to be treated when you have been working harder than usual and praised for their compassion, understanding and tolerance. Furthermore, recognising your family after a busy work period teaches your children about determination and how to have a good work ethic
Buy time. When you are working hard, you need to outsource some of the household chores, like gardening, house cleaning, ironing, pool maintenance … just to name a few … so that you can enjoy more time with your loved ones
Work smarter, not harder. Finding ways to work efficiently and consider areas that could be outsourced or automated can be of great assistance. Suggestions will vary depending on the industry you work in however, streamlining processes is a great place to start and virtual assistants can be invaluable
Exercise as a family. If you need to find time to exercise, try to find an exercise solution which involves your entire family … and make it fun! Perhaps bike riding, trampolining, rock climbing/bouldering, snorkelling, soccer or tennis … your options are unlimited!
You don't get to rewind the clock. It is essential to create opportunities to connect as a family, share quality time and make memories while providing for your family. It isn't an easy feat but it is possible provided you are conscious of your time and actions.