How to write an affidavit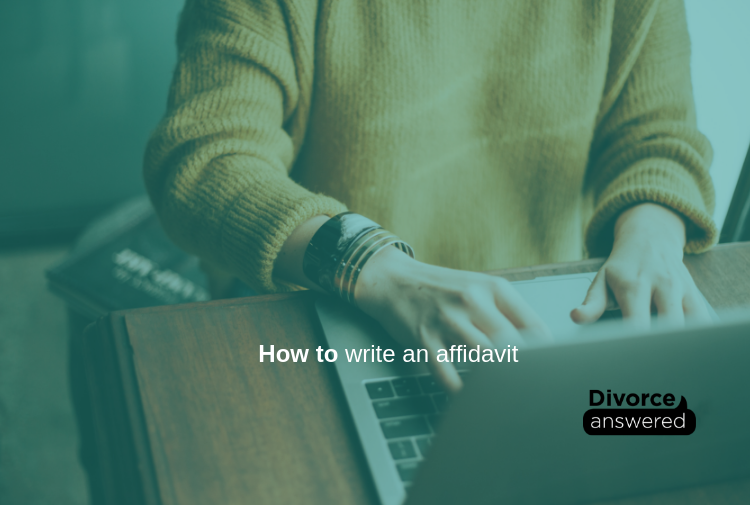 A GUIDE TO CREATING AN AFFIDAVIT FOR COURT
Writing your affidavit can be an overwhelming. Knowing what to include, what the right layout is and the pressure that you put on yourself to make it perfect can make it difficult to start let alone finish. Having a firmer understanding around what you should do and how to put it together helps to make the process of writing your affidavit that little bit easier (and it can help save your legal costs).
I kept detailed journal of every daily interaction with my ex-spouse. I felt that the information that I had was so rich and useful, I tried to put every aspect into the document. However, adding too much and information that isn't poignant can dilute what you are trying to convey. It was so difficult to be restrained with the events and instances that I put into the document.
Should you or your lawyer create your affidavit?
Of course, it is easier to pay a lawyer to write your affidavit – it is a lot more expensive too! However, your lawyer can't do it from scratch without your input. They don't know the intricate details that you have experienced. They don't have your SMS, emails or direct conversations that you have had with your ex-spouse.
By starting the affidavit, you are putting your thoughts onto paper in a logical and chronological order. Put too much rather than not enough so that your lawyer can cut any unnecessary parts. You are minimising the time that it takes your lawyer to create the affidavit and instead they can spend the time tightening your affidavit and ensuring that what you want to say is conveyed in the most succinct, powerful way possible.
So, the simple answer to 'should you or your lawyer create your affidavit?' is both.
If you can't afford a lawyer, then ask a friend to help you to review your affidavit. This friend is ideally someone whom you believe to have a firm understanding of your situation, someone who isn't inflammatory about your relationship with your ex and who is good with the written word.
Formatting your affidavit
There are some tips for formatting your affidavit
Write it in the first person – use "I," "my" and "me" when explaining and describing
Affidavit is to have numbered paragraphs
The affidavit should be printed on one side of the page only
Use a standard font like Calibri or Times New Roman at a 12-point text
Space your document with 1.5 spacing and double spacing between paragraphs
Use bold headings (to help with flow and reference) and continue the consecutive numbered paragraphs throughout the entire document
Short sentences with simple terminology. Stick to the point and avoid waffling
Put your points in chronological order under each heading. Your phone register, SMS and emails can add with your chronology and referencing to facts
Your affidavit should reflect the orders that you are requesting in your application or response
Remember to adhere to your Courts page and annexure limits (for example, the Federal Circuit Court limits the affidavit for an interim hearing to 10 pages and 5 annexures unless express permission is sought from the presiding Judge)
Content by headings
Having an idea of what you need to fill out or add into the Affidavit can help you with understanding where to start and how to structure the document. The following headings may be helpful for you when creating a structure:
Introduction. Include personal details, children's details, children's schooling, date met, co-habitated, married, separated, divorced
In Response to Applicant's affidavit of [include the date]. (Refer to 'if you are the respondent to the applicant's affidavit' section below)
Employment. Outline a brief employment history, any maternity/parental leave as well as current employment.
Domestic duties. Outline the domestic duty division between you and your ex-spouse during the relationship
Financial Responsibility. It can help for you to outline who was financially responsible or how finances were managed during the relationship and how financials are currently being cared met. In parenting focused affidavits, it is helpful to state how much Child Support is being paid and whether there are any arrears
Parental responsibility (for parenting settlements). Outline who was the primary carer during the relationship and what involvement you and your ex-spouse currently have with the children
Financial contributions (for financial settlements). Briefly outline assets that you and your ex-spouse brought into the relationship as well as any inheritances and gifts given during the relationship. Remember that non-financial contributions (such as child-rearing and home maintenance) are also considered
Support Services and Courses. Outline any post-separation parenting courses that you have completed or are enrolled in and the support organisations that you are working with to help you through your separation journey
Your concerns for protecting the children (for parenting). This is particularly important when you have safety concerns for the children. Highlight what you have done to protect the children and what instances you have had to do this
Any comments or remarks made by the children about the other parent (for parenting). This is where you will offer direct quotes and details surrounding any concerns that the children have with the other parent. This is a particularly pointed section for children exposed to Domestic Violence, neglect, are in harms and old enough to express a strong opinion
Each parent's capacity or ability to provide for the child's emotional, intellectual and other needs (for parenting). In this section, highlight any mental health, addictions, emotional intelligence, work/availability, living arrangement concerns that you may have about your ability or your child's other parent's ability to provide or parent them well
Evidence of Domestic Violence. Offer specific examples of your encounters (or the children's) with domestic violence. Remember domestic violence can be physical, verbal, emotional, psychological, financial, social and sexual. If you have had dealings or reports to the police, add these in this section.
Current parenting/financial arrangements. Outline any mediation that you have attended to reach the current arrangements. Outline what the arrangements currently are.
Proposed parenting/financial arrangements/settlements. If there is something in particular that you would like or need to have happen, it can be helpful noting it in this section. For some families with safety concerns, they might like to suggest/request engaging a Contact Centre. For other families with concerns relating to addictions, they might request random drug tests. For other families with financial challenges, they might ask for an order regarding the payment of particular bills or limitations on use for certain accounts.
Last paragraph is your declaration. Some (not all) affidavits include in the final paragraph, to make a declaration that what you have stated is a true and correct recollection of the events that happened from your perspective. You could state: 'All the above facts are within my own knowledge except those which are deposed to from information only, my means of knowledge and sources of information for which appear in this affidavit.'
If you are the respondent to the applicant's affidavit.
If your ex-spouse lodged their paperwork with the court first, they will be the Applicant and they will have lodged an Initiating Application with Affidavit. This will make you the Respondent. As the respondent, you will get to respond to their affidavit which is where point 2 (above), 'In Response to Applicant's Affidavit', it is important that you thoroughly review the affidavit and put forward your response (especially if the affidavit is filled with lies!)
This is a recommended process to help you order your thoughts and response
Print a copy of the affidavit so that you can make notes on it
As you read each point and make your comment in the margin. You might agree, disagree or feel that it is a half-truth
If you feel that you are disagreeing with a point in part or whole, make a note as to why
Ensure you refute with facts. It may be helpful to offer supporting documentation to support your claims
After refuting points in the other affidavit, create your own points and make them in chronological order
When refuting in your affidavit state "As to paragraph [#number] in [name]'s affidavit, I say [enter your comment]"
Extra pointers to remember in the affidavit:
• Stress your fear for your safety and your children's safety.
• Use direct quotes as much as you can
• Be as specific as possible and reference your recollection of date, year, season, month and/or location
• Remove information that doesn't directly support your position, argument or requested orders. Too much information can dilute what you are wanting to say'
Signing your affidavit:
Your affidavit will have to be signed off by a lawyer or Justice of the Peace (JP). Each page will need to be initialled by you and the lawyer or JP and on the final page of the affidavit, you will need to include the following information:
• the full name of the person making the affidavit, and their signature
• whether the affidavit is sworn (for religious people) or affirmed (for non-religious people)
• the day and place the person signs the affidavit, and
• the full name and occupation of the authorised person, and their signature
Parting words.
It isn't going to be the last affidavit that you submit and any details that you missed or perhaps didn't offer sufficient weight can be added in future affidavits. In your subsequent affidavit, you can always state something along the lines of "I refer to my affidavit of [date] and offer this affidavit in addition to it." Equally, if you need to make a correction to the original affidavit you can either dismiss it (and say something like 'this affidavit replaces the previous affidavit of [date]' or bring attention to the error and correct it by saying 'in reference to paragraph [number] of my affidavit [date], I say …').
Despite your need to make it accurate and perfect, sufficiently detailed yet short and to the point while having to keep the document within your court's designated page and affidavit limitations, don't stress over the document too much. Yes, this is easier said than done. If you don't manage to settle by consent and out of court, then there will be many more opportunities to get your point across.