How to raise a family, without a family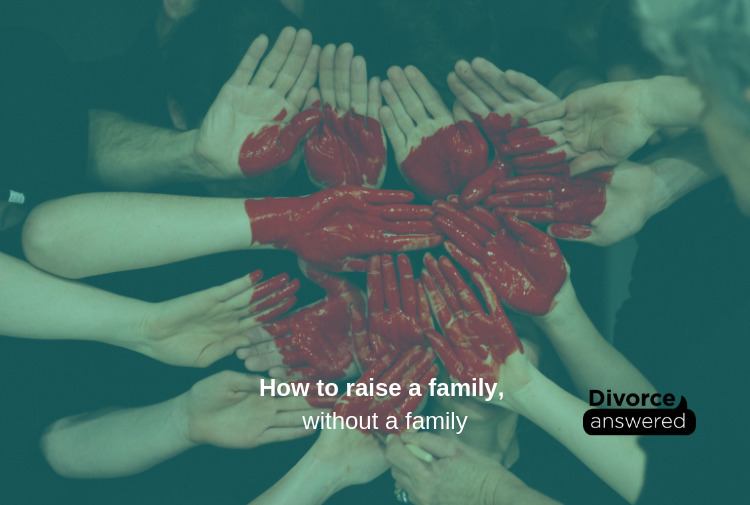 Raising a family without the support of your own older family often relies upon you, the solo parent, being in the best physical, mental, emotional space as much as possible. Rachael Scharrer, divorce expert, Separation Strategist and founder of www.DivorceAnswered.com.au, understands the juggle between providing for your family, meeting the needs of the children as well as meeting your own needs and coordinating home and activities. It can be extremely exhausting, especially for those who are doing it without the support of the child's other parent or any extended family. Let's explore how you can raise a family without a family, regardless of whether it is a situation you find yourself in by choice, from being estranged or simply living far away.
"It takes a village to raise a child" – African proverb
Creating easily tangible solutions every day to embrace raising a family on your own while keeping your sanity is incredibly important for the overall wellbeing of oneself and the children. If you feel like this is your situation, Rachael Scharrer encourages you to implement some or all of the following:
Create your emotional support network. If your family live a distance away, then they are able to be an emotional support. Call them, vent but make sure that your emotional support network is not inflammatory to your situation. These people need to be a realistic sounding board, have the confidence to tell you when you are wrong or over-reacting. And for the times that you are upset or hurt and in the 'right' they need to help you feel empowered and refrain from having to be right or have the last word
Create an online support network. Join Facebook support groups for encouragement. However, if you turn to this line of support, be careful not to take legal advice (they don't know your entire situation and are not lawyers) and do not react to their inflammatory comments. They can, however, be of support when feeling low and great cheer-leaders when you have a 'win' to share
Create your family support network. Another single parent with children who get along. I love the 'divide-and-conquer' dinners where each family brings something to contribute towards the meal. Kids love the sense of community and the adults get a 'play-date' too!
Create a physical support network. It is important to have people that you can call on at short notice if you really need the help. Perhaps you can "adopt" an older neighbour who can help you, preferably who doesn't have family near-by who is also looking for company or someone who is new to an 'empty nest.' Equally, if you can afford it, a live-in nanny/boarder/au-pair/exchange student can help with parts of the day and share a bit of the adult responsibility
Reach out to support organisations. There are many local, state and national organisations designed to help people in need of support. If you are unsure, ask your local police station or doctor/GP for recommendations. A few suggestions include: Brighter Futures, Relationships Australia, Victim Services, local women's refuges/support centres/shelters, religious organisations, local playgroups and school communities.
Take care of your mental wellbeing. More often than not, people do not come through a divorce unscathed. There is always something that needs to be addressed -either within ourselves or due to external influences. Support organisations, psychologists, counsellors, therapists, life coaches are great resources to turn to for assistance and strategy.
Buy yourself time. You need to find the time to invest in yourself. Perhaps put the children in afterschool care one afternoon so that you can get to a fitness class or do something to fill your own bucket. If you can afford a cleaner, make sure that you re-invest the time otherwise spent cleaning into connecting with your child
Embrace alternative therapies to help change and manage moods. Music and aromatherapy has been critical for people with illnesses and disorders to shift moods and attitudes. Scents like lavender, drinking chamomile tea and embracing soothing music can help to calm a household. If you are in the dumps, try having orange scent in a diffuser to invigorate, play some upbeat music to help energise the occupants of the house
Download the free e-book "Everyday mindfulness and gratitude during divorce." This free e-book from Divorce Answered features seven practical suggestions you can implement every day at different moments to bring your attention back to you a centred place. When you are calm and centred, you are more in control of your emotions and reactions
Make the most of the professionals around you. It's difficult being the good cop-bad cop all of the time. So, when you need extra help in certain areas, call upon the everyday professionals around you. Consider turning to your GP, children's classroom teacher and extra-curricular activity teacher (karate masters are great with this!)
Lean on your friends to positively discipline or guide and support your child. Constantly parenting and disciplining Is tiring. As such, supporting a single parent when they are parenting is easy. Back them up with encouraging the child to be respectful. Try "please listen to your mum/dad," "your mum/dad is my friend. It's not nice for my friend to be spoken to like that" and "your mum/dad is tired, how about I help you get ready for bed"
Make structure and routine your best friend. There is so much that you have to achieve and get done within every 24 hour period. It can at times feel impossible. However, strict routines and having structure, can get the 'need to do' items and create some quality time in the process. You could introduce dinner at 6pm where you all sit together and discuss your day without any digital devices or distractions. Alternatively, you could all pitch in to clean the house and then enjoy an activity out of the home together. Routine and structure allows the family to function to its highest potential, manages expectations and creates a unified unit.
Raising a family on your own without the support of family nearby isn't impossible. It does mean that you get less time for yourself and means that you need to exercise a lot more self-care and self-control. Having the right tools in place and actioning them as needed goes a long way to making having and raising a family on your own more enjoyable.
Related articles and information:
• Sign-up to Divorce Answered to access two free e-books "Everyday mindfulness and gratitude in divorce" and "The 15 biggest mistakes made in divorce," click here
• For more self-care tips, click here