How to Help Your Adult Child Through Their Divorce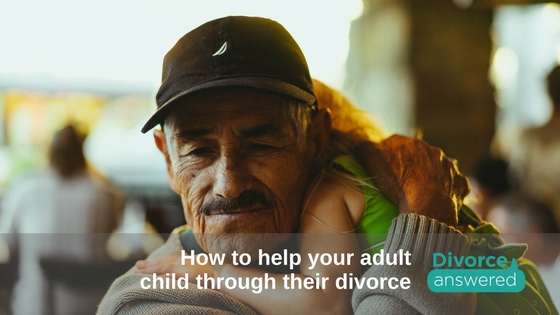 Parents have a wonderful connection with their child that remains when that child matures into an adult. As parents we need to trust that we raised our children to be amazing adults who were equipped with the relevant resources to handle life's challenges. However, when your child's marriage is failing or falling apart, it can be difficult to fight the impulse to step in and 'make everything better.' Your child is hurting, their life will undoubtedly be changing and they are understandably unsure about what the future holds. As a parent watching your hurt child, you feel a sense of powerlessness and desire to take control over the situation to make it immediately better for them.
As your parenting instincts kick into overdrive, you need to be the voice of sanity, reason and understanding. Rachael Scharrer, Divorce Expert and founder of DivorceAnswered.com.au, shares 10 tips for helping your child through their divorce in a supportive manner. When you ask "what should I do? My child is divorcing!" rest assured that there are lots of things that you can do to assist your adult child, including:
Listen. Your child will need to vent, clear frustrations and anger. Now more than ever, they need a safe space to express themselves (and who better than a parent to do it with). Talk about their feelings and validate them in an understanding and supportive way. You could say things like "I understand that you're hurting," "it's ok to be sad," "I am here for you," and "I love you."
Don't be reactive or inflammatory. As the saying goes: "don't add fuel to the fire." Your child doesn't need you to get them more worked-up, depressed or infuriated by the situation. If your child is down-loading on you, refrain from adding stories from the past reminding them of other similar negative memories
Document! Ensure your child documents the details of the union and issues as they arise. It could be helpful for you to buy your own diary and make notes about dates, comments, contact with both parties and your contact and involvement with the grandchildren. Get documentation on any loans you have given the couple or your child
Support by finding organisations and sources that can help. Every divorce is unique and have different elements that need to be considered. You may like to actively seek out organisations that could assist your child or save relevant newspaper clippings which could assist them on their journey. You might also like to access Divorce Answered's free Separation Checklist so that you can help them with considerations and be as organised as possible
Educate yourself in divorce process. If you are able to be as educated and informed as possible about the divorce process, you can assist your adult child to be as realistic and comfortable with the future (and potential) course of action. The more people that are educated and informed, the less daunting the situation becomes. You could review the divorce process on the divorce answered websiteclick here
Don't get involved or take sides. There were two people in the marriage or union and both people need to take responsibility for their part in the break-down of the relationship. "Blood is thicker than water" so stand by and support your child. If you start taking sides and voicing a strong opinion about who is right and wrong, you may find that you end up fracturing your own relationships, not just your child's relationship with their ex-spouse
Encourage your child to be reasonable in an unreasonable situation. Remaining amicable and respectful, even when your child believes their ex-spouse is being irrational keeps them in control of the situation. Often it is better not to respond to an irate or unreasonable request/demand. Encouraging your child and their ex-spouse to work together, compromise and communicate clearly is essential to ensuring that the settlements and agreements aren't protracted and are for the betterment of an ongoing future relationship together
Support the grandchildren. Make your first priority the grandchildren. Give the grandchildren time out from their grieving or emotional parents; they are the innocent parties of the divorce. Ensure your child and their ex-spouse are always child-focused – this means that they put the needs and interests of their young children first. Be available to assist your adult child and the ex-spouse with their children. You could take on some of the grandchildren's school pick-ups or running them to extra-curricular activities – more time with the grandchildren will strengthen your bond with them as well as fortifying great memories together
Be civil and respectful to your child's ex-spouse. If you want to be involved in your ex-son/daughter-in-law's life and their life with the grandchildren, you will be well served to be a neutral party in the divorce. Encouraging your adult child and their spouse to cooperate and co-parent is essential for future family gatherings (Christmas, religious and school events, weddings and birthday parties) and more so if you are looking to be invited and included
ALWAYS REMEMBER: never say anything that you may regret. Ensure you don't say something offensive, belittling or insulting about either person in the divorce to keep you in good stead for a positive, ongoing future relationship … because … you never know if your child will get back together with their ex-spouse!
In the end, perspective is necessary. The priority is to have everyone involved healthy, safe and happy. By applying the above tips, you can help keep the situation as calm as possible, offer encouragement and understanding while being supportive of the family unit despite the current situation or current 'shape'.