Why a separation strategist needs to be on your divorce team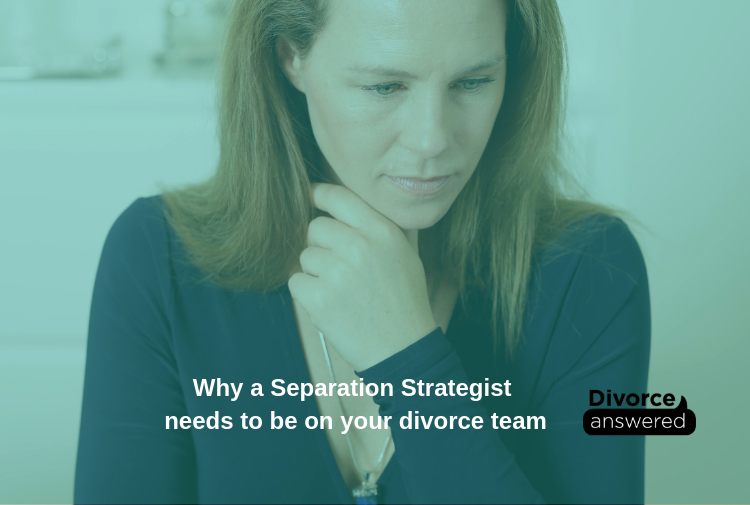 Too often, people refer to themselves as a coach – some coaches hold space, others offer accountability and the best are 'Strategists!!' Your friends and family are wonderful support. Often, your separation and situation will benefit from affordable guidance that makes a huge impact. Separation Strategist can help you with the everyday questions and concerns that you have as well as assisting with preparedness and coordination of everything that you need to manage throughout the process. The additional support will make a significant difference to your overall wellbeing and confidence.
Why include a Separation Strategist in your divorce team? Here are five great reasons why and how you can benefit from having a Separation Strategist/coach:
It's cheaper to have a Separation Strategist or coach on your team than a lawyer (or going it alone!) Your lawyer is there for the legals, not for emotional support. Lawyers cost between $350/hour to $650/hour or more which means that when they are working for you, you want to make sure that they are dealing with the 'meat' of your divorce – the legal and very technical parts of your divorce.
Receive fast responses. Your lawyer has over 40 clients and every client thinks that their issue is the priority. However, realistically, many of the concerns are not legal but emotional reactions. Your Separation Strategist can guide, coach and help all aspects of your separation.
You're not alone. You have support in your Separation Strategist. Armed with a wealth of knowledge, experience and practical tools to share, you can feel more comfortable with where you are at in your journey and your future plan
Offers an unbiased and objective perspective. Sometimes you need an unbiased, impartial perspective when you are feeling heightened emotions. Your Separation Strategist is someone who has the confidence to tell you not to do something or to hold off and come to a solution with you that will benefit your situation
Strategy, direction, guidance and support when you need it. Whether you want one or several sessions, you can create a plan, put appropriate boundaries into place and feel more confident with your divorce
Divorce is a marathon, not a sprint. Ensuring that you have the right tools, information, mindset and strategy can be the difference between surviving and thriving in your divorce.
Clients often say "I wish I called you earlier" and "you cleared up a lot of uncertainties and I am now heading in the right direction." You can also enjoy the benefits of clarity, confidence in your decisions and feel empowered from having an appropriate plan or a strategy, all from one simple chat.
You can arrange your Strategy Session today using this link.
Please note: a Separation Strategist doesn't replace the need for individualised legal advice. The purpose of a Strategy Session with a Separation Strategist is for clarity, to build confidence, gain a realistic perception, guidance, direction and preparation.