Fred Stays With Me! (Nancy Coffelt)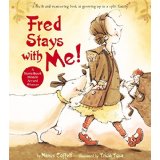 This is a beautifully written story about a little child whose parents are divorced. As the child moves between each house, so does her dog, Fred. Fred is the constant companion and confidant. What is particularly interesting about this story is that the dog presents the challenge for the parents, the child asserts her authority in a loving manner and together they find a suitable resolution. It is told cheerfully with warm watercolour illustrations.
A School Library Journal 2007 Best Book of the Year
A Kirkus Reviews 2007 Best Children's Book
An ALA Notable Children's Book
A Boston Globe- Horn Book Honor Book Winner.
Ages 3-7
Disclaimer
This is general advice only and is not provided as legal advice. If you have a legal issue, you should contact a lawyer and/or accountant before making a decision about what to do or applying to the Court. DivorceAnswered.com.au cannot provide legal advice. If you have an emergency situation, please contact Emergency '000'. © Divorce Pty Ltd