Expert lawyer shares tips for expats separating overseas and in Australia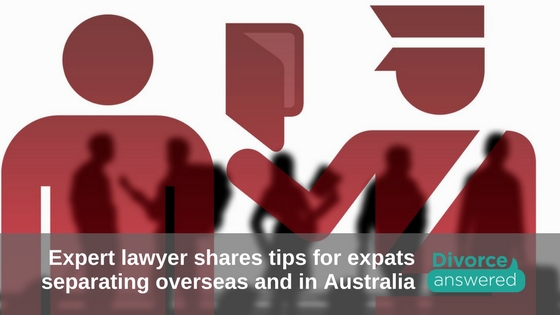 Many families decide to move abroad and become expatriates for an amount of time, whether it is for one parent's career, returning to a country of origin with the benefits of being close to family, or to intensively learn the language. In some cases one person is able to work and the other is solely dependent upon their spouse.
Sadly, separations can and do occur while overseas. Separation can be hard even when you have supportive and loving family and friends surrounding you. Without an established support network, living abroad may make you feel incredibly isolated and unsure about what to do. The separation can become overwhelming, almost paralysing, and all you want to do is get back home.
Rachael Scharrer, divorce expert and founder of online resource DivorceAnswered.com.au, stresses if this sounds like you, STOP before you book a flight for you and the children… and keep reading.
Without hesitation, you will need to seek legal advice either in Australia or in your host country, and often in both.
Leading Sydney family lawyer Ms Eleanor Lau, from national firm Lander & Rogers, has extensive experience with expatriate (expat) relocation and shares her expertise. "Whether you are an Australian living as an expat overseas or an overseas national living in Australia, speed and efficiency is crucial in the event of separation," said Ms Lau. "It is essential that you consider which country and court you file your case in, as well as become aware of the rules and regulations for each country regarding relocating with children when separation takes place."
"With expat divorces in Asian countries such as Singapore and Hong Kong on the rise, there are an increasing number of separating expats who run the risk of falling foul of the law by not being aware of the rules with respect to relocating with children to a different country," Ms Lau explains.
Singapore is leading the charge to stop people from leaving a country without the express written consent from both parents. "Countries such as Singapore are a signatory to an international treaty that effectively prevents one parent from removing children to relocating from one country to another country if the other parent has not consented to this," shares Ms Lau.
The Hague Convention on the Civil Aspects of International Parental Child Abduction 1980 (commonly known as "The Hague Convention") is upheld and enforced in many counties including (and not limited to) Australia, Singapore, Hong Kong, New Zealand, and the United Kingdom.
If you choose not to follow the local laws the ramifications can be significant.
Ms Lau continues, "relocating without consent can be highly disruptive and confusing for the children and could result in the children having to return to the country against your wishes."
You may remember a relatively notable story in 2012 about the mother and her four daughters who left Italy for Australia. The children were ultimately deported to Italy to live with their father and have their case heard in the Italian Family Court. The mother was in QLD when the children were removed from her custody by the Australian Federal Police.
Before you join any statistics, Ms Lau shares some essential steps to take if you want to relocate 'home' to Australia as a separating ex-pat:
Speak with your ex-spouse and come to an agreement in writing
Failing #1, contact a family lawyer (with experience in overseas relocations) in Australia for assistance
Be informed about the risks and regulations surrounding relocation to or from the country that you are living in
Understand your options and make the best decision you can with the information and professional advice that you have been given
Failing all of the above, seek appropriate Court Orders through the Family Court
"Considering your proposed relocation, family requirements, financials, and assets (and where these are located), your lawyer will advise which country's court is likely to be the most favourable to your particular situation for the most ideal outcome," said Ms Lau.
If your child has been removed from their country of residence, seek legal advice and potentially action urgent Court orders.
Dealing with the laws and regulations of two countries is an added complexity to separation during a time of heightened emotions. Seeking legal advice in both countries specific to your individual circumstances is imperative. The Hague Convention also covers other matters, including financial settlements (property) and Child Support.
For more professional advice regarding your relocation overseas, please contact Eleanor Lau, Special Counsel and Accredited Family Law Specialist, at Lander & Rogers Lawyers. Eleanor Lau has been recognised as a Leading Family Lawyer - Complex Parenting matters by Doyle's Guide.
You can contact Eleanor Lau via email: elau@landers.com.au, phone: (02) 8020 7707, or visit www.landers.com.au