Expert advice from family lawyer: Take care of your mental health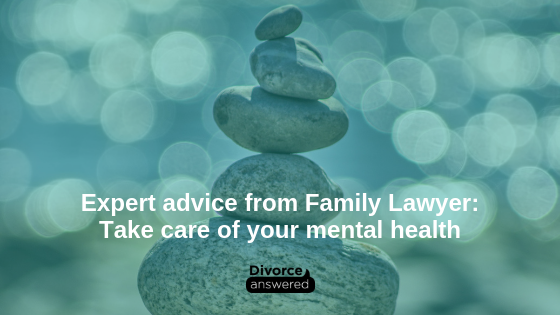 Rachael Scharrer, divorce expert, coach and founder of DivorceAnswered.com.au, shares her fascinating conversation with Ms Annette Turner. Ms Turner worked for more than 25 years in the Family Court as a Judge's Associate before moving into private practice with Clinch Long Woodbridge Lawyers. Drawing on this extensive experience, Annette is mindful of the emotionally stressful circumstances facing her clients and uses practical and rational approaches to reach a settlement. "I've seen family law cases, from both sides of the courtroom" said Ms Turner.
Understanding Ms Turner's unique perspective and experience, I asked "what is the first piece of advice that you offer when a client arrives in your office?"
Her response wasn't the usual lawyer response: "Look after your mental health."
When referring to mental health, it doesn't mean 'insanity' or 'depression.' For the purpose of this article, 'mental health' refers to mental wellbeing and maintaining a standard that allows an individual to manage life's stresses with relative ease. Of course, you are entitled to have good days as well as more challenging days and times where you feel anxious or sad. There is a big difference between positive mental health and 'mental health conditions' or 'mental illness.'
Ms Turner recommends implementing the following five things to protect and maintain your positive mental health after break-up and during separation:
Beware of social media. Social media certainly has relevance for different people. However, please exercise caution when sharing your story, venting or airing frustrations about your relationship or former partner. "People on your social media offering you 'advice' don't always know the particulars of your situation and sometimes steer you towards unhelpful directions," cautions Ms Turner. What you put in writing can last a life time and may be used against you. Further, there are legal restrictions on publishing material about your family law case. Please be really careful!
Channel your anger into something productive or positive. When upset or angry, be mindful of how you feel and how you release your emotions. Too often, we take our upset and anger out on our ex-spouse. Exercise restraint by not discussing your ex-spouse, the relationship or current situation in the presence of children. Ms Turner strongly recommends to "do your best not to react." If you need to release your pent-up energy, take the children for a walk, to the park, do some exercise or squeal into a pillow (in private). In saying this, however, it is important to recognise the need to get things off your chest. If you don't have someone to speak to immediately, take a few minutes to write your feelings down, then put this to one side and try to redirect yourself to your earlier task, or to spending some fun time with your children.
Have a strategy to protect your financial settlement. There are lots of things that you can do yourself and that you can plan or implement with the help of your family lawyer. It is recommended that you consider changing bank account passwords, ensuring that any joint re-draw or loan accounts are set up for two people (you and your ex-spouse) to sign and not any one person. "Depending on your circumstances, or what your claim may be on a property or large asset, it is essential to obtain legal advice to protect your interest. Your family lawyer can best advise what you can do now and in the future to ensure that your assets remain protected until your financial position is resolved with your former partner," said Ms Turner
Have a strategy to deal with your emotional state. Many people going through separation would benefit from speaking with and consulting a psychologist, therapist or counsellor. These will be people that you can speak with who has an unbiased perspective and offer practical advice based on what you tell them. "Some people are internalisers and others are over-communicators. It is important to find a method of 'downloading' or 'venting' that suits you and is safe for those around you," shares Ms Turner. She continues "we also need to remember the children and consider their mental health too. They are going through an enormous change in their lives, and they can often tap into how you are feeling." A strategy for the children is equally important as having a strategy for each parent during separation and divorce.
Acceptance. Part of moving forward with your life after break-up heavily relies upon acceptance. Acceptance means that, even if you're not happy about it, you acknowledge the end of the relationship, you recognise that life will be different from now on and that you can't change the past. "Living with resentment, regret or anger stands in the way of acceptance," said Ms Turner. "We don't have to like our current situation, however we can take positive and active steps towards helping ourselves create the future that we would like. You can make an active choice to accept and to take control of your situation."
In golf-speak, separation and divorce is a long-game, not a short-game. Ensuring that you care for yourself and your emotional and mental wellbeing is key to thriving throughout this period.
For more professional advice regarding your separation, please contact Annette Turner, family lawyer at Clinch Long Woodbridge Lawyers.
You can reach Annette Turner via email aturner@clw.com.au, phone 02 9279 4888 or visit www.clw.com.au