Divorce, Separation and your Last Will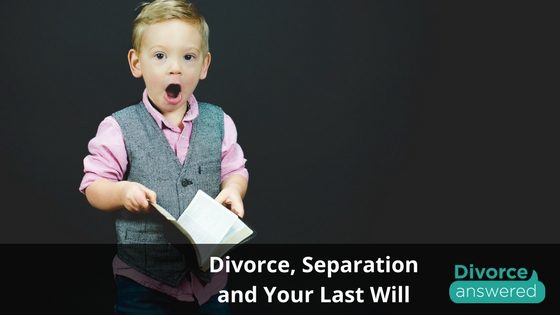 Let's cover a morbid topic and clarify what happens to your assets when you die. Rachael Scharrer, founder of online resource, DivorceAnswered.com.au shares insights into your marital status, your Last Will and associated implications of currency (or lack of).
When I separated, I owned a small property which was fully mortgaged. I knew that without taking immediate action to establish a Will, there was a possibility that my ex-spouse could live in my home with our children. My ex-spouse could spend all of my money and other assets in any which way he saw fit. My ex-spouse could destroy the home and no one would be able to stop it. He would have had carte-blanche with what he did, where and how the money was spent and possibly have no regard for the future needs or investment for the children. There was no way that I was going to allow my ex-spouse to make financial decisions for my assets and how my assets would be used – so I took action and wrote a Will.
As circumstances and situations change, be it relationship or asset status, it is imperative that you update your Will. A good rule of thumb is to change it every 3-5 years or at a life milestone. Consider creating or updating your Will before marriage, after marriage, after the birth of each child, during the marriage, at separation, after divorce, when re-marrying or re-coupling as well as ending any other significant relationships or when your assets change.
Marriage: A Will written prior to getting married is void upon marriage. Considering individual circumstances and the Will written prior to marriage, a portion of your assets will be given to your wife/husband upon marriage. 'In contemplation of marriage' are the 4 key words that must be stated on your will prior to marriage with the intent of marrying to ensure that the Will remains applicable during the marriage.
Blending families: This may be a concern for people entering blended families. Ensuring that your spouse and each child (from prior relationships and within the current relationship) is independently cared for is crucial to ensure that following your passing there are less arguments and fights over your intentions.
Separation: If your Will is not updated post-separation, then your ex-spouse will benefit from the assets of the marriage and the Will written during the marriage is legally binding upon your death when separated. Provided that you seek appropriate legal advice and sign the Will correctly, then a Will created during Separation will continue to apply post-divorce order.
Superannuation and life insurance: As soon as you separate, you need to contact your superannuation organisation and life insurance company to sign relevant documents and make appropriate directions. Superannuation and life insurance are not necessarily covered by your written Will and your ex-spouse may be the beneficiary in the absence of appropriate directions.
Divorce: Once you have received your Divorce Order, the execution of a Will written during marriage is different to every state and territory in Australia. Therefore, it is essential again to update your Will, even if the document remains unchanged.
De facto: While de facto relationships meet the same rules and regulations of a marriage in Family Law, de facto relationship partners can claim on the Will, especially when living in a property together. Some de facto couples choose to allow their spouse to use their assets and live in the property they own until the spouse dies, at which point the assets of the Will is executed to the other named beneficiaries.
Laws of Intestacy: If you die without a Will, the Laws of Intestacy apply. This means that a person who dies without leaving a will is said to have died intestate, and the estate passes to the next of kin according to a special statutory order.
Codicil: A codicil is an amendment, addition or subtraction to the Will. The codicil needs to make the same regulations as a Will to be valid.
Finally, if you believe that your Will may be contested in Court, you may wish to have a Lawyer create a specialist, supplementary document to your Will which feature greater instruction or direction, supporting evidence for why your decisions were made and how you want it executed in greater detail. It is held and reserved as an affidavit per se in your physical absence.
No one knows when or how their passing will happen. Ensure you are adequately future proofed by outlining how you wish your assets to be distributed. Keep the angst, contention, stress and uncertainty to a minimum by creating and updating your Will regularly as your circumstances or situation changes.
For individualised advice regarding Wills, please consult an estate lawyer.