Creating boundaries for your emotional wellbeing when you break-up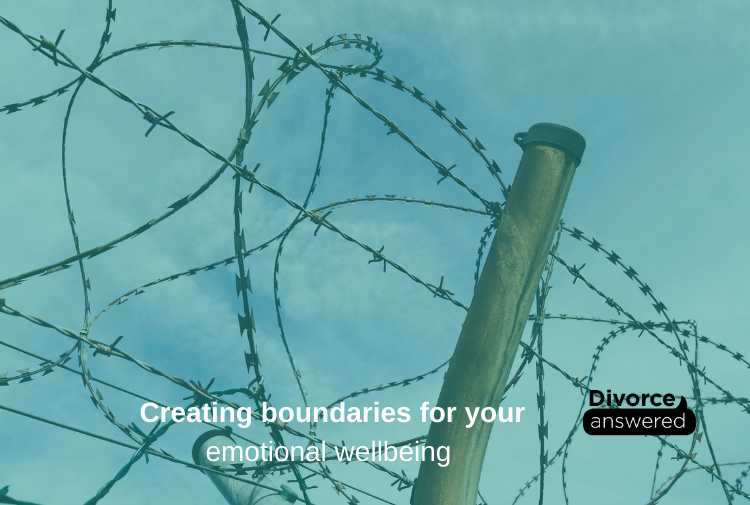 HOW BOUNDARIES CAN PRESERVE YOUR SENSE OF SECURITY AND HAPPINESS IN SEPARATION
Divorce is not only a highly emotional time but it is also a time when your confidence has taken a dive, you have lost your identity and you have a great need to take control of your life. For some people, their ex-spouse is incredibly fractious towards them and this detrimental to their emotional and general well-being. In order to cope with their ex-spouse's taunts and picking on them as a person, they turn to a 'crutch' for support, which may be an addiction, an obsession or depression.
For me, I thought separation would be easier than marriage. However, during our separation, my ex-spouse was threatening and intimidating my extended family and I, he was putting me down, telling me what a bad parent I was and attacking every little thing I have done or said and used it against me. I went from a person that rarely drank any alcohol to having 1-3 glasses of wine a night (yes, you may be thinking 'that's nothing' but it wasn't 'nothing' to me). I also started to eat excessively. I was vacuuming the house three times a day so that I appeared to be coping. I was eating my feelings and drinking more than ususal to numb them too.
I felt like I was constantly giving to my ex-spouse and he was taking whatever he could and using it against me or manipulating the situation. I was trying to facilitate time and access for him with the children, but it wasn't working.
Strong, firm boundaries became my 'best friend' throughout my divorce. Here are some of the boundaries that I put in place for my emotional wellbeing as well as to protect the children from any negativity and unnecessary stress between or from us parents:
Your home is your safe space. Keep your ex-spouse out of it. It will limit the criticisms and judgement (or, in my situation, any theft) and keep the negativity out of the home
Communicate in writing (via SMS or email). This limits when you check your messages and creates space from your (potentially negative) reaction
Avoid phone calls as much as possible. Calls can take a nasty turn quickly, and there isn't any evidence or proof of what was said
Don't react when a negative, snide or poking comment is made. By going 'silent' they won't know whether they have got a reaction out of you and it will drive them crazy not being in control of how they made you feel
Don't poke or incite a reaction from your ex-spouse. Creating drama doesn't aid you or them and the children end up being affected (even if it happens when they are not present)
Keep conversation to the child related issues or items only. You don't need to know the details of your ex-spouse's life and they don't need to know about yours. The children are the priority and they wellbeing is the focus
Limit your in-person interactions with your ex-spouse. Some people find it helpful to make drop-off/pick-up change overs at school
Create a "calling window" or period of time each day or on selected dates each week for phone calls. This stops any constant calling or unexpected upsets if you don't have your phone on you when your ex-spouse wants to contact the children
'Hide' on skype. If your ex-spouse skypes the children, create a different skype account than your own account (or switch your skype status to "invisible" so they can't see when you are online. Restrict access to young children's electronic devices so that they can't facetime or What'sApp without your knowledge.
Keep to your parenting plan/order. If your ex-spouse doesn't want the child as frequently or for the full amount of time, don't fight, make it work and find a solution. IF you don't have a parenting plan, you can create one with Divorce Answered (click here)
Document. Please keep a diary of access changes, comments made by the child or ex-spouse or anything that you think may be remotely relevant for the future. You are better to make the effort to document now than regret not having made the effort and needing the information
You are not a PA or secretary. I refused to take on the coordination and scheduling of my ex-spouse. They are an adult and has to take responsibility for themselves
Live within your own income. Don't rely on your ex-spouse for financial assistance or support
Supervised visitations or supervised change-overs. This option isn't for everyone. This is an essential step if you think that your children are at risk of harm with your ex-spouse or if you feel that being around your ex-spouse is toxic while facilitating visitation or change-over in a more controlled environment
When you are able to create and enforce the appropriate boundaries (as suggested above) to your situation, you will feel more in control of what you are subjecting yourself to. Coupling the boundaries with some exercise and plenty of sleep, you will be in a better position to regulate your emotions and keep your head-space clearer. By being feeling emotionally lighter, you will feel more replenished, energetic and better able to handle any tricky situations that come your way … and most importantly, you won't feel the need to lean on any addiction, obsession or depression.
Please share the boundaries that you implemented via the Contact Us page.
Learn more about abuse, the different forms and how to manage your situation with the HOW TO BEST SEPARATE Domestic Violence (2nd Edition) E-book.
Related articles: