The Christmas Creep. Is your bank account prepared for Christmas?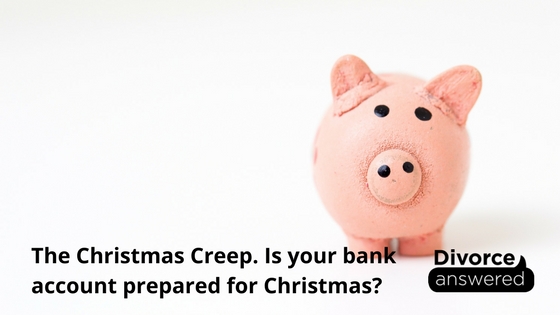 (Rachael Scharrer, divorce expert and founder of online resource DivorceAnswered.com.au shares her experience as Christmas creeps closer.)
Christmas - Aargh! It has crept up on me again.
The bank balance is looking sad and in dire need of a cash windfall.
My heart starts to beat fast when I recall how scary-busy Term 4 is at school, coupled with endless work commitments, late nights, deadlines and more school commitments. In the blink of an eye, the year draws to a close and I will have the space to breathe again after boxing day.
I have started my list of presents for family, teachers, neighbours, friends…. I feel like my budget won't stretch no matter how much I save! Have I left saving too late? How can I be creative or buy something that is unique? High perceived value gifts always help!
I love being prepared with gifts and presents. Albeit, I don't think I am the best present purchaser. The years that I have been organised, my kids said that I bought boring presents and it was 'the worst ever'. Last year I waited to the last minute to buy the trendiest items or the sale items and the stock was virtually non-existent. Finding non-crap presents that won't break after 10 minutes and the children want to play with are hard to find. Crafty presents are great – but I can't stand the mess and actively avoid anything to do with glue, paint, scissors and glitter.
Looking for a positive…. Why not add to the insanity, mayhem and budget depletion? Let's invite everyone to our home for Christmas lunch! Preparing the table, cleaning the house, hoping the bins will be emptied before Christmas day for all of the wrapping paper, boxes, food scraps … or is it better for the bins to be collected immediately after to take the stinky prawn shells away?
Even though there is so much to consider, do and budget, Christmas will be great. At the crux of the celebration, it is about family, quality time, love and peace. It doesn't matter if we don't have the finest trimmings or the most expensive presents.
An attitude of gratitude and a grateful heart are the 'everything' that we need.