24 ways to stretch your legal budget during divorce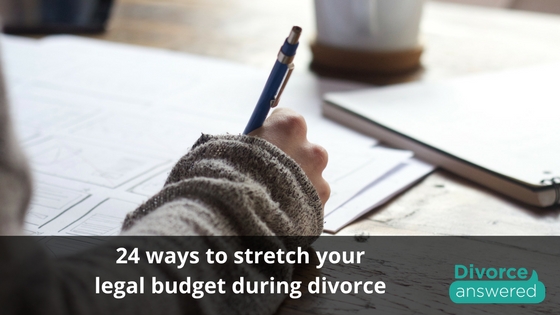 There are more people than ever before using the Family Courts. The vast majority of the separating population are not able to afford unlimited legal representation. Equally, more and more people are self-representing and, understandably, they do not know the intricacies and complexities of Family Law. If you find yourself with a limited budget for legal fees or if you are feeling motivated to work alongside your lawyer there are ways to stretch your legal dollar further and maximise your time with your lawyer. Rachael Scharrer, divorce expert and founder of DivorceAnswered.com.au offers 24 pointers you can implement immediately:
Start on the right foot. Gather your documentation. See Separation Checklist
Be proactive and motivated. Do something every day towards your divorce … forms, calls, appointments
Buy a diary. Buy a diary and make sure that your legal appointments and life activities are all stored in the one place. It will help you to feel on top of your life, see your week and month at a glance and allow you to plan ahead
Efficiency at first consultation. Make an appointment and use the Separation Statement and take supporting documentation
Be concise and clear when communicating with your lawyer
Inform lawyer of budget and needs. Ask how your lawyer wants you to work alongside them and what you can do to help reduce legal fees
Limited Scope. If planning on self-representing, spend a little to get some legal advice – you will learn and gain a lot
Document and diarise. Keep a record of your interactions with your ex-spouse and your lawyer. Keep track of everything! You don't know what you may be looking for until a pattern appears in hindsight
Be open and adhere to the advice of your lawyer. Your lawyer is the professional and their experienced opinion needs to carry the appropriate weight. If you aren't sure about the advice, you can always get a second opinion
Be clear with what outcome you want. Understand what is fair and be open to compromise. The more you change your mind and waver with the end result, the more protracted the process will become (and ultimately more expensive)
Mediate and compromise. Wholeheartedly be open to mediation and family dispute resolution. You may need to attend a couple of times before reaching an agreement
Speedy settlements are made by consent. Be open to a slightly lesser settlement. If the case is drawn out, the asset pool may have changed (potentially for the worse) and your legal fees will increase. For instance, you don't want to be spending $40,000 to only receive a $50,000 settlement
Be respectful, fair and reasonable in all of your interactions with the other party and legal professionals
Don't sweat the small stuff. Be mindful of only discussing relevant information with your lawyer
Write your own. Draft letters and responses for lawyer to approve and send
Write your own parenting plan. You know what you want and need and what suits your family better than anybody. Instead of briefing a lawyer about what you want in your parenting plan, write your own then have your lawyer check it. If you would prefer some structure and guidance, you could use the Parenting Plan tool. You can make the suggested amendments that your lawyer offers and you will have saved as much as $4000 doing it yourself!
Forms. The Family Court forms are freely available on the website. Download, fill out your own forms and have you lawyer check it before submitting
Do it yourself. Lodge your own documents at court (if possible). If you are self-representing, make sure you have a CommCourts login which make it easier to lodge documentation and receive communication
Electronic Service. Where possible, e-serve the other party, this will save you time and money
Lawyers letters to you. Some lawyer summarise in letter form and then charge for letter fee. You can ask your lawyer not to summarise and send the letter. Some lawyer write to you and forward the commuication via email and post. Inform your lawyer of your preferred method and ask for them not to duplicate their communications
Check your costs agreement. Some legal professionals charge for reading at $20 per 50words. Other lawyers bill to maximise their fees (choosing the higher rate for an item). Watch how long you speak with your lawyer, most charge at 6-minute increments

Errors are made. Lawyers are human and sometimes there is a mistake on the invoice. Make sure that you check your bills
Spoon feed. Your lawyer isn't a mind reader. When going to trial or interim hearing, offer written notes for discrepancies, inconsistencies or falsities. Make sure you reference the document and paragraph for each item you comment on. Supplement your document with proof
Get informed. Learn as much as you can about the law pertaining to your individual situation. If your case involves added intricacies, learn about that too. See E-books
Your divorce (whether you have a lawyer or not) is your other full-time job. Don't minimise what is ahead of you and the efforts you have to put in to get the results you want. It is a complex process but you can make it manageable.