12 Christmas Tips: How to Financially Prepare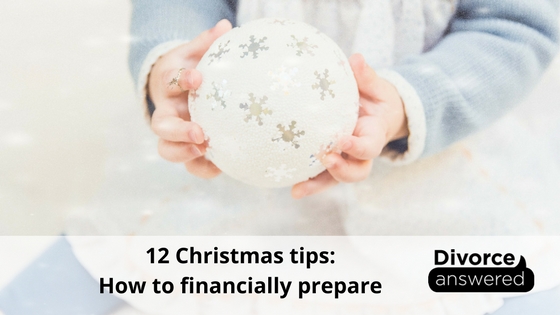 Christmas takes a toll on most families – there are additional expenses, continuous catch-ups and celebrations as well as a lot of extra eating. Preparing for the financial onslaught of Christmas becomes incredibly important for many families. The hardest hit are single parents whose finances are often stretched on a daily or monthly basis and Christmas can create a lot of debt if not handled in a coordinated and proactive way. Rachael Scharrer, divorce expert and founder of DivorceAnswered.com.au shares 12 tips to financially prepare for the onslaught at Christmas time.
Tips on preparing yourself mentally and financially include:
Set aside funds. If you can afford to put aside $50 per week for gifts from the first week of October until Christmas, you will have saved $1200 for Christmas presents! Take the money out of the account as you receive it each pay-day and use those funds to pay for Christmas presents keeping the additional costs off your credit card
Buy in advance. Entertaining and eating increases over the Christmas period. So, to avoid 'food bill shock,' try to buy dry goods, chips, snacks, canned goods and the like in advance and store in the cupboards. Only buy ingredients that will last for a couple of months and try to get them when on sale
Start a list. Start a list of presents for each family member. When you come across the appropriate gift, purchase it and cross it off the list. Lists are great for your children's presents too so you don't end up with too many of any one gift. Lists help eliminate the last-minute stress but also means that you are purchasing a considered gift rather than a "I have to get them something" last-minute gift
To Teacher, Made with love. Teachers gifts are best when made with love. There are only so many chocolates and flowers that a teacher can tolerate. Make a sauce or jam for the teacher (something that doesn't have to be consumed immediately) or ask your child to create a heart-felt card for their teacher – this will mean more to them than a mug, flowers or pen
Made with love, for the last minute. Try to make extra of your edible delights or home-made gifts and keep them for the last-minute reciprocal presents – like neighbours, friends etc. This way, you can save some stress and save-face when the last minute gift exchange takes place
Quality over quantity. While children love receiving lots of presents, they are disappointed when it breaks. Where you can, buy fewer but better quality presents, not a lot of junk which breaks and clutters the house
Lay-by now. Lay-by is a great way for you to purchase gifts while slowly paying them off and not having to store them in your home. Your cheeky monkeys won't find the presents early when the snoop!
Set spending limits. As families grow in size, sometimes it is worthy of suggesting a budget to spend on each other. This way, each family member knows what the spending expectations are. If you can't afford it, then it is worthy of talking about setting a different limit or not buying for each other. Alternatively, agree to have a special dinner out together instead
Just for the kids. Another way of keeping costs down is for the parents not to buy gifts for their own siblings and only buying for the niece and nephews. While it is lovely receiving gifts, it is more important that the children have a wonderful, memorable day
Kris Kringle for family. Often families don't want to receive four $50 gifts, preferring one $200 gift. You could do this by implementing Kris Kringle (whereby everyone receives one person whom they are responsible for gifting)
Divide and conquer. For your Christmas Day feast, ask your family and friends who are attending to bring part of the meal – salad, dessert, cheese/fruit platter, vegetables. This will help to make preparations significantly easier and reduce some of the stress
Crafty bon bons. The children can fill their time leading up to Christmas by creating their own bon bons for the Christmas feast. Make or buy a small lolly and use that as the treat/prize inside. The children can also write their own jokes and make the paper hats. Place each of these items inside a toilet roll and wrap with wrapping paper.
Remember that you don't have to be everything to everyone. Christmas can be a time of overwhelm. It is ok not to attend every gathering or celebration. When you get tired, your children will notice and it affects them. They will also need a little downtime after a busy year. Save some energy into enjoying time with the people you care the most about.
The number one key to Christmas is being prepared and organised. Start the necessary conversations about where and when Christmas will be celebrated, create and delegate the menu, discuss present buying and spending limits. By spreading out the costs three, two and one month before Christmas, you will avoid any bill shock, reduce the unnecessary stress and avoid the horrendous Christmas shopping crowds.
To that end, the essence of Christmas is about love, family and time, not about presents, money and stress.