10 ways to show affection without buying a gift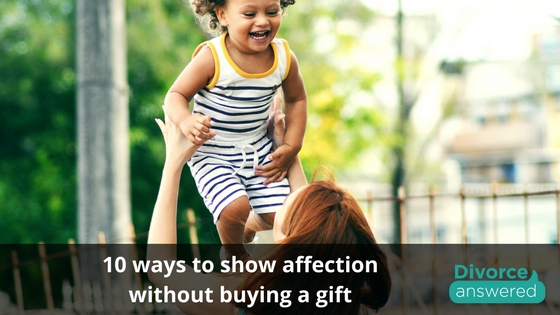 You don't need to open your wallet and buy something to sow someone that you love them. There are ways that you can show affection without buying a gift or flowers. Rachael Scharrer, divorce expert and founder of DivorceAnswered.com.au offers 10 suggestions for gift-alternatives which create a strong connection and bond with your children.
I am sure that we have all heard about the Disneyland Dad and the Goodtime Mummy – they are names used to describe the parents who buy-love the love of their children. For the parent who can't afford to be the 'fun' parent, this can be extremely frustrating. Finding other ways in which you can show that you love your children (or partner) without having to pay for anything can include:
Cooking their favourite meal. 'the way to a man's heart is through their stomach.' As the old adage says, there is something special about going out of your way to create a special meal for someone else, especially when it is their favourite. More so, if you do it when it isn't their birthday and cook their favourite meal 'just because' it will carry so much more meaning
Writing a little note and placing it in the lunch box or in their work bag or on the mirror. Little notes with affirmations, love or of achievements are special and unique surprises. What is really unique is that you aren't right next to them when they find or read the message, but they will know that you love them very much and are thinking of them. Alternatively, you may consider yourself a poet or writer and can create longer prose
Read together. Reading is great for a child's development. Whether you read with or to your children, you can make it a fun experience by sharing the reading (by page or paragraph) or putting on character voices helps them to engage and invest in the story. If you are a touchy-feely person, consider giving your partner or child a massage or back rub
Draw a bath. Many adults love a bath and children love it too - put some essential oils, a bath bomb, petals from a flower or bubbles into the bath. Play some music in the bathroom while they enjoy a soak. If you are using these tips for an adult, you could add some candles to set the atmosphere
Watch the sunset/sunrise. Watching the way that the sky changes at sunrise and sunset is incredibly special. Depending on your location and the sleeping patterns of your child, you may be able to share the sun slipping away for the night or awakening the day. Equally, laying out a picnic rug and watching the stars is also incredibly special – you might even see a comet!
Exercise together (even with kids). As much as adults need to exercise, children love it too – it is more of a game for them than a necessity. Enjoy some family yoga, cricket or football in the park, skipping, basketball, bike riding – the list is endless and the kids will love the bonding experience (and you running around with them)
Play a board game or card game. In the rise of digital media, sometimes it is nice to turn off all devices, get on the floor or around the dining table and play a board game. You will be engaging with your children, teaching them about healthy rules and how sometimes games are based on 'luck' rather than just skill (which is a great leveller for children of various ages, like snakes and ladders)
Pick some flowers from the garden. Surprise your children or special person with flowers picked from the garden and place it In a vase beside the bed. If you don't have flowers, then cut herbs, they will smell great!
Hug, kiss, cuddle and snuggle. Whether you kiss and snuggle your children or partner at bed time, the closeness creates a sense of security, comfort and love.
Capturing the moment and walking down memory lane. Capture and savour your time with photographs and selfies because before you know it the kids will be grown up - you can't relive precious moments. Children love seeing photos of themselves and of you as a child. Go through photo albums and share stories, Bonding over stories about them as a child and of your life strengthens your relationship
Your relationship with your child is what you make of it. With some effort and a little imagination, you can make beautiful and lasting memories. Reflect upon what you liked to do with your parents and replicate it with your children. Embrace the child's interests by showing some passion and fascination in what they like. It is possible to show affection and interest in your child without buying gifts or presents. By doing some or all of the suggestions above, you will be the 'parent of the year' without having to spend a fortune buying the title.